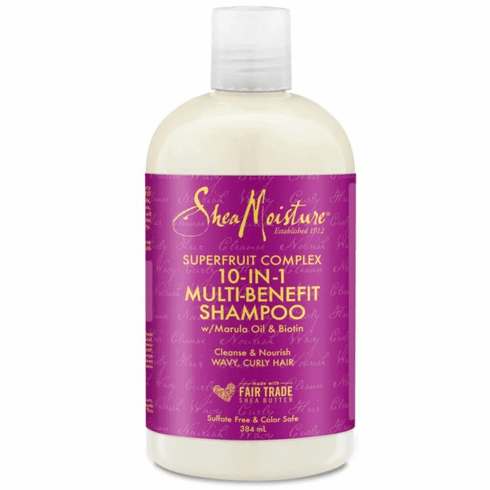 Shea Moisture Superfruit Complex 10 in 1 Renewal System Shampoo
Shea Moisture Super Fruit Complex 10-In-1 Renewal System Shampoo is a power-packed, non-toxic hair cleanser that gently rids your curls off daily build up, dirt and grime. Fortified with marula oil and biotins this shampoo moisturizes, hydrates and protects dry, damaged, brittle and colored hair. It has anti-stress and age defying properties to make your curls look softer, shinier and bouncier for years to come!

Marula Oil: Marula oil's high level of both vitamin C and oleic acid combines to help protect and beautify the hair. It nourishes scalp and ends to assist in moisture retention while restoring the health of the hair

Rice protein:

Rice protein helps plunge a natural shine to your curly or kinky hair while increasing the total volume.

Aloe Juice:

The aloe juice soothes your irritated scalp and unclogs follicle pores.

RESTORES VIBRANCY: Infused with rich oxidants this shampoo works on lackluster, dull and dry hair, to turn them full of life and shine

IMPROVES HAIR ELASTICITY: Marula Oil boosts hair elasticity to decrease hair fall and reduce hair breakage

ANTI-STRESS & MANAGEABILITY: Biotins present in this formulation prevent hair loss and boost hair health, to make curls healthier and more manageable

COLOR PROTECTS: Made from all natural ingredients this gentle hair cleanser protects colored hair and makes the color last longer.

AGE-DEFYING: Reduces hair fall due to ageing and improves longevity of curls and coils.